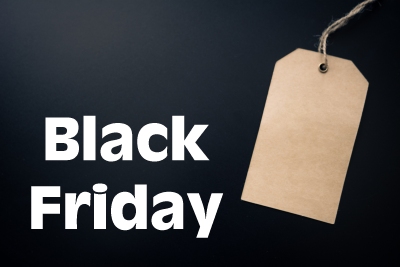 "Hunting for the best Black Friday deals this year is going to be a month-long, frustrating experience for both shoppers and retailers because of inflation, supply shortages, and COVID-19. As a result, deeply discounted deals may be harder to find, quantities even more limited than usual, and since fewer sale circulars are being leaked far in advance, planning will be more difficult," explained Consumer World founder Edgar Dworsky, who has been tracking Black Friday promotions for decades.
Historically, prices on Black Friday itself are some of the lowest of the year. Now sellers are dividing their Black Friday deals into multiple smaller events throughout November, offering fewer items, charging higher prices, and keeping the real November 26th bargains secret as long as possible. Most sales will start online before they do at brick and mortar locations, and "club" members like those with Walmart+ will get access ahead of the general public, adding to consumer frustration. So shoppers are advised to keep doing their homework by comparing products and prices, but to strike early before stores run out of the hottest items. Online shopping is expected to surge since many COVID-conscious shoppers still want to avoid crowded stores.
Consumer World offers these holiday shopping tips to help bag the best bargains:
1. Read the Ads: Preview the Black Friday sale circulars now at blackfriday.gottadeal.com. And to make price comparisons easier, you can also get a list there of sale items by category, such as all HDTVs or laptops. Leaked copies of retailers' ads are very late this year so thorough planning is harder. Early shoppers may miss out on better deals introduced closer to Black Friday. Also, get on retailers' email lists, and check their websites and social media to hear about additional "hidden" bargains and deals.
2. Evaluate the Deals: Not all Black Friday advertised items are the best deals. To separate the ho-hum deals from the good ones, use a pricing tool, such as the Price Checker in Consumer World or camelcamelcamel.com (to compare today's price for an item to what was charged over the past year at Amazon and other sellers). If shopping online, find out the total price including shipping and tax (if any). Lastly, check the reputation of unfamiliar online sellers at ResellerRatings.com .
3. Research the Right Product: A low price on a lousy product is no bargain. Check websites where professionals evaluate products, such as Consumer Reports, Wirecutter.com, Rtings.com (TVs and electronics), PCMag.com (computers), best/worst toy lists, etc. Check the user reviews posted after most product descriptions at Amazon.com, BestBuy.com, Walmart.com, and other retailers.
4. Save with "Triple Plays": To save the most, combine the primary ways to save: buy items at a good sale price, use percent-off/dollars-off/bonus points coupons offered by some stores to lower that price even more, and look for items that also have a cash back rebate. Kohl's tends to have many bonus offers.
5. The Early Bird Gets the Doorbusters: Find out which day the sales begin online and shop at the beginning of the sale because quantities are very limited, and no rainchecks will be given generally. The same advice applies in-store so be there when the doors open. Opening hours vary because most stores are closed on Thanksgiving this year. Expect a return to early morning 5 am-type openings on Black Friday itself if you choose to venture out rather than shop online.
Good deals and "doorbusters" in November (check ads for start dates):
Walmart: Fitbit Charge 4: $69 (reg. $129); Roku LE: $15; InstaPot 8qt.: $59; TCL 55-inch HDTV: $228 on November 3-5 (was $148 in 2020).
Kohl's: Small appliances: $4.99/$9.54 after coupon and rebate.
Macy's: Ladlow/Lexah sofas: reg. $899/$999, now $499 ($100 higher than 2020); Various small appliances: $7.99/$9.99 (no rebate); Ninja blender/food processor: Reg. 249.99, now $99.99; Tzumi wireless earbuds: $4.99.
J.C. Penney: Various small appliances and kitchenware: $4.99-$19.99 after rebate.
Home Depot: 40 Rayovac AA/AAA batteries: $7.88 (was $5.88 in 2020); Sherpa throws: $9.88; Genie belt drive garage door opener: $78 (reg. $178).
BJ's Wholesale Club: Select retail/restaurant gift cards: 10-35% off (Nov. 16 - 29).
Amazon: Wired Ring Doorbell with free Echo Dot: $41.99
Best Buy: Insignia 6-qt. instant pot-type cooker: $29.99.
Bed, Bath & Beyond: 25% off coupon in circular on entire purchase, some exceptions.
Target: Target: Several pages of toys in their circular are 50% off.
Old Navy: 50% off everything (Nov. 25-29 online, Nov. 26 - in-store).
Also look for: Apple AirPods (2nd gen.): $89; Roku Premiere: $19.99; Google Nest Mini: $24.99 (was $18.99 in 2020); discounted restaurant/retail gift cards at drug chains.
Don't expect: French door refrigerators (25 cu. ft.) for $998 -- a staple of Black Friday historically.

6. Beat the Early Birds: Some Black Friday sale prices are available now, will start soon, or have ended already. For example, two of the three parts of Walmart's sale event are over. The last part begins online Monday, November 22 at 7 p.m. ET and in-store Friday, November 26 at 5 a.m. Walmart+ members ($98/yr) get a four-hour head start for online sales likely frustrating non-members seeking the hottest items. Target's sale begins Sunday, November 21 online and in-store, while Macy's sale begins Tuesday. Home Depot's full sale began on November 14. For other stores, double-check dates/times to determine when each sale begins and whether any particular items are online, in-store, or both. To efficiently check which stores still have hot electronic items in stock, visit HotStock.io. Procrastinators can expect huge sales on Cyber Monday, November 29.

7. Check the Return Policy: Before buying, find out the store's return policy and if return shipping is free for online orders. Many stores have extended their return deadlines into January.

8. Get a Gift Receipt: Make returns easier for gift recipients by asking the store for a gift receipt and include it in the gift box. Without a receipt, a refund may be denied outright, or may be limited to only an equal exchange, or to a merchandise credit for the lowest price the item has sold for in the recent past.

9. Use the Right Credit Card: Certain credit cards offer valuable free benefits. For example, don't be pressured into buying a service contract when you can get up to an extra year of warranty coverage free just by using some better credit cards. Some cards also offer a return protection guarantee (they will refund the purchase price within 90 days if the store will not), or offer a sale price guarantee (they will give you back the difference if an item goes on sale within 60 days of purchase). Be warned, however, that many cards have dropped these benefits, so double-check with your issuer.

10. Save More with Price-Match Guarantees: Stores generally will not honor price matches from Black Friday through Cyber Monday but will after that period. Keep checking the prices of items you bought and you may be entitled to get back some money if the seller or a competitor offers a lower price before Christmas. For example, if Target lowers its prices by December 24, you can get back the difference for items purchased there as early as October 10. Best Buy's policy applies to select items through Nov. 25.

November 15, 2021