FREE WEEKLY NEWSLETTER
<! -------------------COLUMN 2 (MIDDLE) ----------------------- -->
You must REPLY
to the
confirmation email
to activate your subscription.
---
To change your address, first UN-subscribe the old one, then SUBscribe the new one.
---
To subscribe to Consumer World Preview, [ see sample ] a free weekly e-mail newsletter containing the latest additions to Consumer World and Mouse Print*, and a preview of the week's latest consumer news stories, features, and bargains, just enter your e-mail address above and click "Subscribe". You will receive a confirmation email that you must reply to in order to activate your subscription.
NOTE: Spam filters often delete the newsletter erroneously or move it to your spam box or folder. Add "newsletter (at symbol) consumerworld.org" to your "friends" or "whitelist." And, if you are a current subscriber, and your newsletter is not arriving on Monday morning, check you spam box.

Privacy Notice: Your e-mail address will not be sold or rented for marketing purposes, and will only be used for maintaining this list.
<! -------------------COLUMN 3 (RIGHT) ----------------------- -->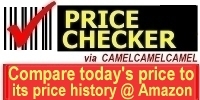 Enter an item, or preferably paste the Amazon URL (address)
Spot bargains by comparing its current price to its price history.

---
ADV
---

Visit Our Sister Site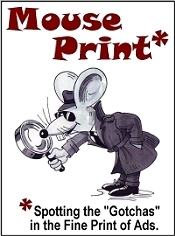 ---
Newsletter Sign Up
Every Monday morning, get a preview of the latest consumer stories and the Bargain of the Week in your email box...free! Sign up now.

---
---