CONTENTS
Site Search
---
---
SHOPPING
Product Reviews
Compare Prices
Car Buying
Catalogs
Stores

---
BARGAINS
Discount Shops
Computers
Discount Travel
$$$ Deals

---
CONSUMER RESOURCES
Directories
Booklets
Buying Info
Health
Home
Reference
Automobile
Legal
Fun

---
MONEY
Investments
Money Matters
Insurance
Credit/Bank

---
CONSUMER AGENCIES
Federal Agencies
State Agencies
Intern'l Orgs. Consumer Orgs.

---
COMPANIES
Online Cust Serv
Auto Mfrs.
Product Info

---
TRAVEL
Air, Hotel
Bed & Breakfast Destinations

---
NEWS
Scam Alerts
Recalls
Newspapers Mags

---
INTERNET
What's New Lists
Search Engines
Wonders
References
Computer Resources
---
REGISTER
for
Newsletter
---
Back to Homepage
---
For Release: August 2, 2010


BANNED DETERGENTS STILL BEING SOLD IN 90% OF STORES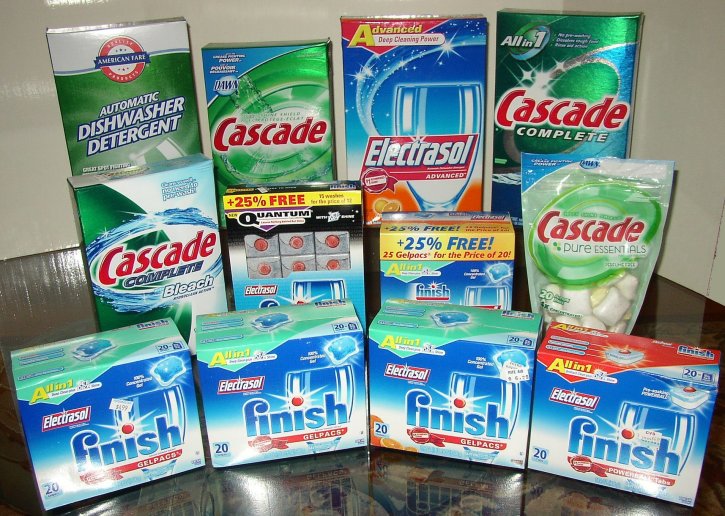 (BOSTON, August 2) -- Dishwasher detergents containing phosphates, which are banned under a new Massachusetts environmental law, were still being offered for sale at nine out of 10 area retail stores spot-checked last week by ConsumerWorld.org, a leading Boston-based consumer education website.
The law, enacted in February 2008, but not effective until July 1 this year, bans the sale and offering for sale of all household cleansers containing phosphorus (phosphates), and lifts the previous exemption for dishwasher detergents. Now, all dishwasher detergents for home use must be phosphate-free.
Consumer World scoured the shelves of 10 supermarkets, drugstores, and big box retailers on July 29 in the Boston area, and was able to find and purchase banned products in every store but one.
"Stores had two and half years to prepare for the ban, but somehow couldn't find the time to scrutinize their shelves to remove the now illegal products," commented Edgar Dworsky, founder of Consumer World.
Retailers found to be selling one or more varieties of banned dishwasher detergents included: Stop & Shop (Somerville), Rite Aid (Somerville), Walgreens (Somerville), Family Dollar (Somerville), Target (Somerville), Shaw's (Somerville); Foodmaster (Charlestown), CVS (Charlestown), and Kmart (Somerville). These stores had between one and three varieties of banned products on display, and between one and 24 packages of each type. The only store that did not have any dishwasher detergents containing phosphates on its shelves was the Market Basket in Somerville. [See chart.]
Under the Massachusetts law, the Department of Public Health can seize these illegal products and seek fines of $1000 to $5000 a day against offending retailers.
Phosphorus was banned in cleaners because it promotes the growth of algae in freshwater lakes and ponds, and that in turn deprives fish of oxygen. Massachusetts joins 15 other states with restrictions on the phosphate content of household cleaners: Illinois, Indiana, Maryland, Michigan , Minnesota, Montana, New Hampshire, Ohio, Oregon, Pennsylvania, Utah, Vermont, Virginia, Washington and Wisconsin .
Phosphate Dishwasher Detergent Survey
July 29, 2010
Store

Location

Banned Product Found

(Phosphate-containing variety only)

Stop & Shop

Somerville

Finish Quantum Powerballs

Rite Aid

Somerville

Electrasol powder

Finish Gelpacs

One other Finish variety

Walgreens

Somerville

Cascade with Dawn

Finish Gelpacs

Family Dollar

Somerville

Electrasol Gelpacs

Market Basket

Somerville

None

Target

Somerville

Cascade Complete

Shaw's

Somerville

Cascade Pure Essentials Action Pacs

Foodmaster

Charlestown

Cascade Complete with Bleach

Finish Gelpacs

CVS

Charlestown

Finish Powerball Tabs

Kmart

Somerville

American Fare Dishwasher Detergent

Media contact:
Edgar Dworsky
edgar (at symbol) consumerworld.org





Return to Consumer World.
HOT SITES
---
*New Sites*
Just Added Here

---
---
Car Prices
Find Dealers' Cost for Cars

---
Low Rate Credit Cards
---
2.5˘ Long Dist.
No Monthly Min.++

---
Check Prices
Find Low Prices

---
Mortgage Rates
---
Air Deals
This weekend ++

---
Better Business Bureau
---
BizRate
Online stores' ratings

---
Product Reviews
---
Find Products
by features

---
Compare Prices
---
What's On Sale?
---
Lemon Check®
Used car histories++

---
Consumer Booklets
---
Consumer Rights
---
Home Prices
Check City Sales Records

---