Week of March 12, 2018 (see last week)
<! -------------------COLUMN 2 (MIDDLE) ----------------------- -->
Top Stories
How Good are Your State's Consumer Laws?
The National Consumer Law Center just released a
study
of how effective each state's consumer laws are. This
chart
summarizes how good or how bad each state is on various consumer topics. One important note: the best consumer laws are useless if your state attorney general and/or office of consumer affairs just sits on its hands and doesn't enforce those laws vigorously.
---
Which Dishwasher and Laundry Detergents are Best?
Consumer Reports just released performance test results for both laundry detergents and dishwasher detergents. For
laundry detergents
, Persil ProClean 2 in 1 was knocked off its top spot (and is now #2) and replaced by Tide Plus Ultra Stain Release. For
dishwasher detergents
, Kirkland (Costco) pacs topped the ratings, followed closely by Members Mark (Sam's) pacs, Finish Quantum, and Finish Powerballs. Note: These two free stories only provide partial test results.
---
ADV

---

---
The New ID Theft: Create Fictional People Who Apply for Credit
Many people who have their ID stolen wind up having a credit nightmare that is difficult to untangle. Now ID thieves seemingly have a heart. They are creating fictional people and ripping them off instead (and of course, the bank that gave them credit). This is
how so-called synthetic ID fraud works
.
---
Consumer World Original
Mouse Print* -- Blurred Lines: Can Readers Distinguish Ads from Content?
It is getting hard and harder to distinguish news stories from advertisements dressed up to look like news stories. If only publishers would make some simple tweaks, we'd know where NOT to click (but then, they would lose money). That story is in Mouse Print* this week.


Consumer World
---
NOTE: We
only
feature free stories that are fully readable. If you are blocked, try a different browser and clear NYT and WashPost cookies from it. Other newspapers may block you based on your repeated use of their site, or convert previously free stories to pay stories without notice.
<! -------------------COLUMN 3 (RIGHT) ----------------------- -->
Enter an item, and compare prices at a number of online stores instantly
(Use brand, model#, name, etc.)
250853
---
ADV
---

Visit Our Sister Site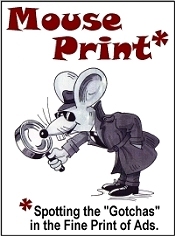 ---
Newsletter Sign Up
Every Monday morning, get a preview of the latest consumer stories and the Bargain of the Week in your email box...free! Sign up now.

---
---
Consumer News
---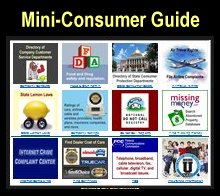 Not an ad!

---
<! -------------------COLUMN 4 ----------------------- -->
ADV
---
Bargain of the Week
$9.99 Car Rentals - 12 Hours/Free Gas
Both
Avis
and
Budget
are offering $9.99 one-way car rentals as a taxi alternative. You get a free tank of gas and can drive 150 miles. Typical use: pick up the car at the airport and drop if off downtown (or vice versa) no later than 12 hours later. Limited days and locations only.
See also: Hot Deals

<! -------------------COLUMN 5 ----------------------- -->
Consumer Reports
Gas vs. Electric: Which Range is Better?
You may be surprised to hear Consumer Reports' opinion about
gas vs. electric ranges
. It is not what you expect.
---
More from Consumer Reports
Most stories are free
<! -------------------COLUMN 6 ----------------------- -->
Consumer World Originals
Archive
---